Specialty Sci-Fi Fonts
SteelWolf, Gravicon, Enmar, and other Futuristic Sci-Fi-themed Fonts from TLai Enterprises
---
-- Shopping Cart / Ordering should now be working again! (as of 7/12/2023 PDT) --
SteelWolf Medium
(Shareware)
---
SteelWolf Medium - VRML Logotype Font .


Styled after the Terminator 2 logotype, uppercase only. This is a popular offering, and you are encouraged to register your copy.


Please Note:

There is a bootleg version of SteelWolf Medium circulating around the PC world. The file is called "terminat.ttf" and yields a font called "Terminator Two" when installed. This TrueType file was converted from a 1993 version of SteelWolf Medium, and all of the shareware info was wiped out in the process. Instead of showing the proper copyright and contact info, it will instead show "Converted by ALLTYPE".

If you've used it extensively, please consider installing and registering the real thing. Unlike the bootleg, SteelWolf for the PC comes in both Type 1 and TrueType.
Price:
US$18.50 - Single User License
US$65 - Network License Pack (up to 5 users)
(Network Licenses are mandatory for installs on networked servers or printers.)
Features:
- Scalable to any size (using appropriate TrueType/Type 1 output device)
- Uppercase letters are duplicated in lowercase spots for convenience

Steelwolf Medium Samples:
---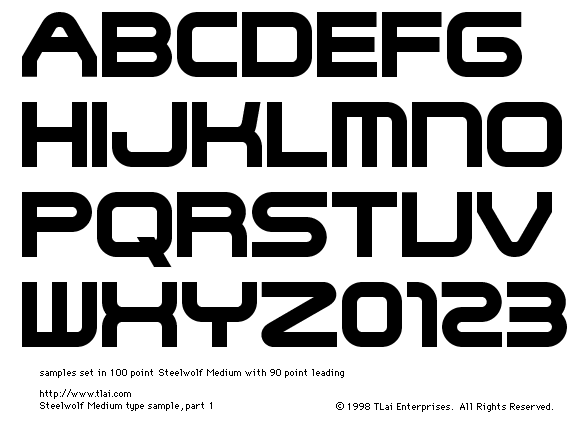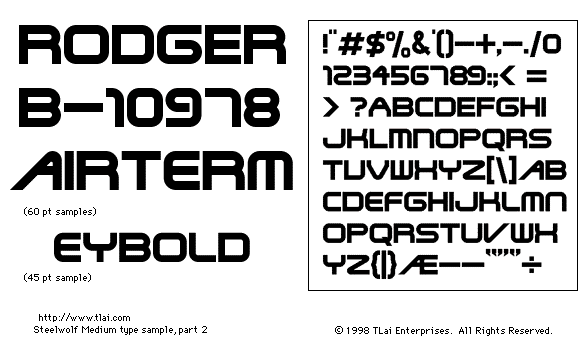 ---