Modeling Fonts
US Air Force, US Navy/Marine Aircraft Marking Fonts, Military Stencil and Carrier Deck Numerals Fonts from TLai Enterprises
---
-- Shopping Cart / Ordering should now be working again! (as of 7/12/2023 PDT) --
MD Carrier Deck Numerals Family - Info
---
MD Carrier Deck Numerals and
MD Carrier Deck Numerals Outline

This family consists of a set of special purpose fonts based on the flight deck numbers on both escort and fleet carriers used by the US Navy in WWII. They include the numbers 0 through 9, with alternates for 5, 6, and 8 for better historical accuracy.

Price:
US$24.50 - Single User License (includes both Regular and Outline)
US$95 - Network License Pack (includes both Regular and Outline, for up to 5 users)
(Network Licenses are mandatory for installs on networked servers or printers.)
---
Features:
- Scalable to any size (using appropriate TrueType/Type 1 output device)
- Alternate numbers (not every number has an alternate.)
- Family includes both fonts for solid and outline numbers, for the cost of one license.
- Includes handy keymap reference

MD Carrier Deck Numerals Samples:
---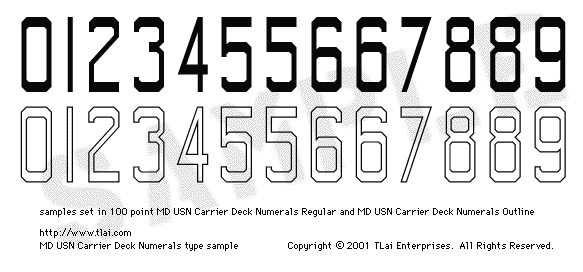 MD USN Carrier Deck Numerals Notes:
---
These fonts are not shareware. If you have any questions about compatibility, please contact us before purchasing.

---